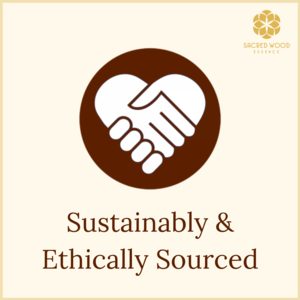 BURSERA GRAVEOLENS)
Choose from 1/2, 1 or 3 lbs.
Please note that not all sticks smell the same, some are stronger than others depending on where they are in the tree or how much oil is saturated in the section of that particular cut. Sticks will not stay lit like traditional incense. They will go out after a short time as they are meant to be burnt in small increments. Enjoy!
How to use
Use a candle, match or lighter to ignite your stick of Palo Santo.  
Hold at about a 45 degree angle pointing the tip down toward the flame.  
Allow it to burn for about 30 secs to 1 minute and then blow out.  Move about your workspace, home, car, bathroom or anywhere you would like to clear the energy.  
When finished, place the stick in a fire proof bowl of metal, glass or clay.  
The glow will end on its own unless you blow on the ember which will keep the smoke going.  
Always use caution and respect when working with fire.
Our Sustainability Practices
We have been working directly with the same family in Ecuador for over 11 years to obtain our Palo Santo raw materials. They have worked directly with the ministry of forest and government agencies on reforestation projects including putting back over 100,000 trees into the dry tropical forest for the last 20 years. They only purchase wood from independent local collectors that find naturally dead trees that have been sitting on the forest floor for over 4 years.
Palo Santo Wood
Awesome product! Best sustainable Holy Wood and products I have found. Received expeditiously and packaged secured. Definitely will buy again.
Palo Santo goodness for years to come!
I like stocking up on nice treats for myself as well as gifts for friends and these are so wonderful! Smells amazing and pure. Thank you for being a source I can trust with such high quality.
The best!
This is a wonderful way to restock your shelves to have smudge on hand for an energetic reset. This amount lasts seemingly forever, and gives you enough to gift to friends. It's the most fragrant of the brands I have purchased from, and I love knowing that the owner has a special relationship with the folks who harvest it ethically and sustainably. Highly recommended! (Bonus: put them in a cotton/linen bag and they will scent your closet or drawer….