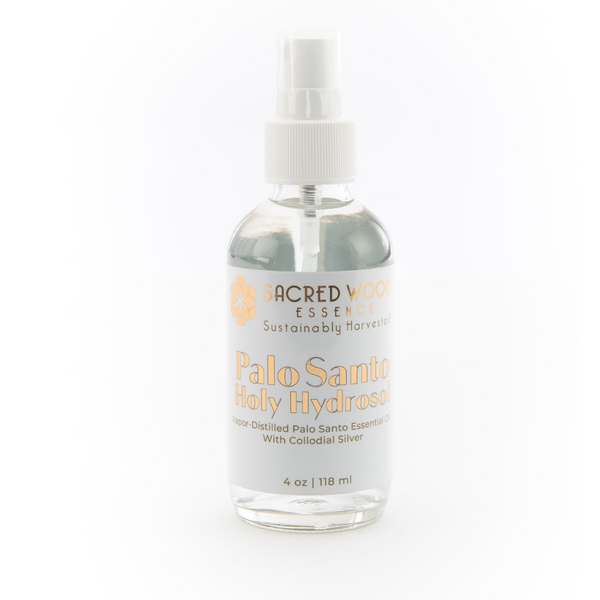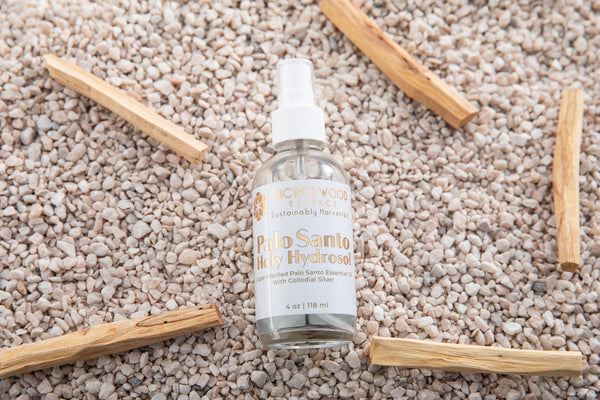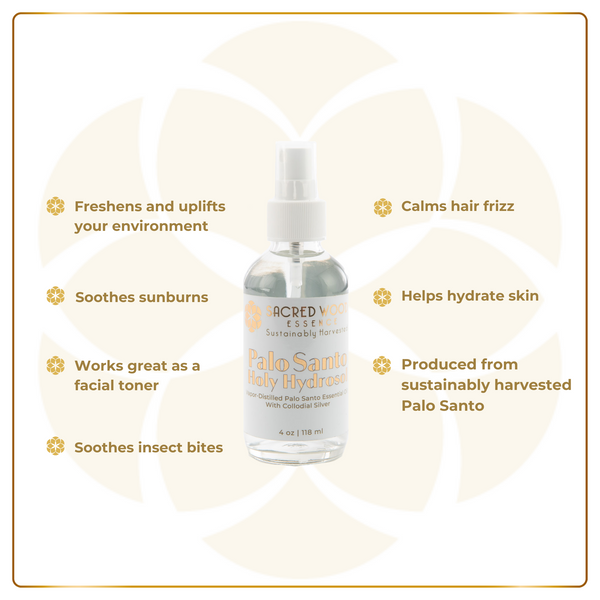 Agua de Palo Santo - 100% Palo Santo Hydrosol from vapor distilled essential oil with Colloidal Silver added.
This item can be used as a facial toner, body spray, air cleanser, mouth wash and for soothing burns or irritated skin. Keep in a cool place or refrigerator.
PLEASE NOTE THIS PRODUCT WILL NOT HAVE THE SAME SMELL AS THE ESSENTIAL OIL OR STICKS. IT IS MORE FOR REFRESHENING AND HYDRATING YOUR SKIN.
4 oz in a glass bottle with an atomizer.
How to use
Spray on face/body to refresh, condition and cool.
Our Sustainability Practices

We have been working directly with the same family in Ecuador for over 11 years to obtain our Palo Santo raw materials. They have worked directly with the ministry of forest and government agencies on reforestation projects including putting back over 100,000 trees into the dry tropical forest for the last 20 years. They only purchase wood from independent local collectors that find naturally dead trees that have been sitting on the forest floor for over 4 years.
Palo Santo
Love this product it smells so good
Amazing
This company has blown me away time and again. I use the mist for skin care and the sacred wood essence daily
Palo santo spray
I like it a lot… very refreshing … I would order again
Palo Santo Holy Hydrosol
Heavenly smell , mind clearing, energy changing and so easy to use!
Love love love
I'm a yoga instructor I use this during my classes…when class starts during deep breathing getting grounded I spray around everyone I have added a few drops of some essential oil blends and the combination is divine!! (I spray this combination on people when they come to my desk as well at full time job to make sure they're good before stepping in my space 😜 well everyone is addicted and now I keep a line at my desk 😂 I also keep a bottle of this on ice (no essential oils added)and during savasana I spray everyone starting at their feet up to their face then smudge around everyone with palo santo stick…this spray is a favorite for me..everything I've gotten from you is a favorite thank you for providing the best!! I made my blend for a friend of mine who is an OTR trk driver he text me the other day thanking me and said the spray was magical he was grounded centered felt such peace…all the things I knew it would do…it thrills my soul to share what I was fortunate/blessed to find…I have forgotten my sprays a couple of times in class and honey everybody was bummed out city pouting and carrying on…I could go on and on..once again thank you for providing the best products..oh one more thing I spray my crystals/stones with the spray to keep them charged ☮️💜🧘‍♀️🥰