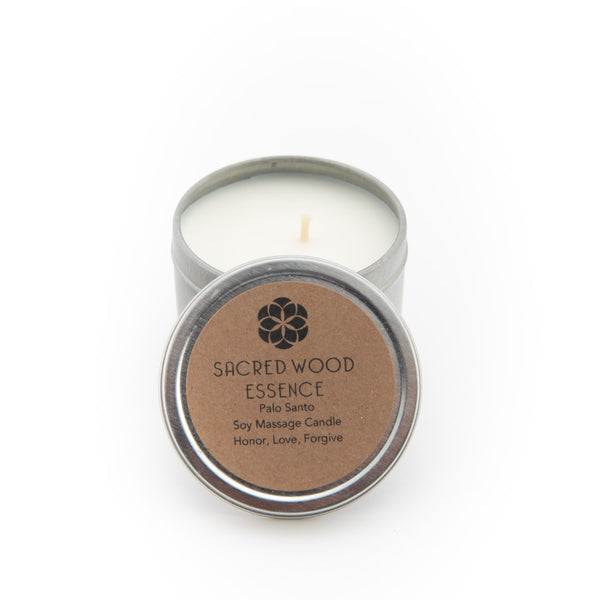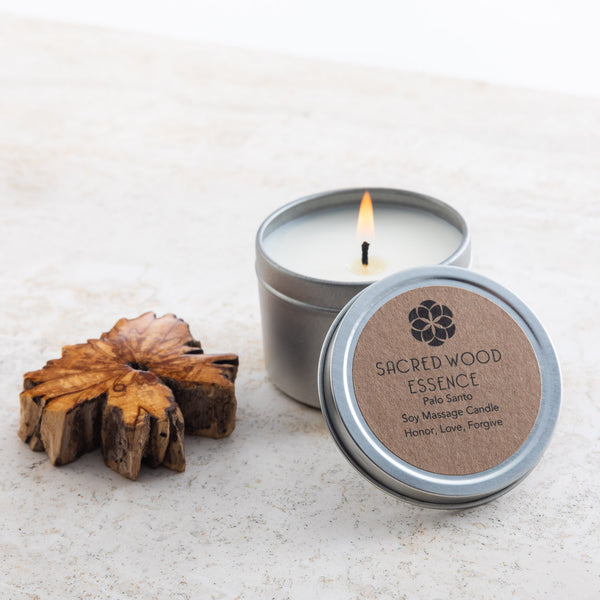 New smaller 4oz size of pure bliss available! This candle's wax is made of soy and shea butter infused with Palo Santo oil. 
As the candle burns, the wax melts and turns into a luscious warm oil to use for massage and moisturizing the skin.  
How to use
Simply light the candle. Let burn for 30 minutes and let a melt pool form. Then extinguish the flame. Dip your fingers directly into the melted oil or you can use the little spoon to gently scoop out hot oil. Use the warmed oil on dry skin areas on the body or pour the melted oil out of the tin and use for massage. Use sparingly. A little bit goes a long way!
Our Sustainability Practices

We have been working directly with the same family in Ecuador for over 11 years to obtain our Palo Santo raw materials. They have worked directly with the ministry of forest and government agencies on reforestation projects including putting back over 100,000 trees into the dry tropical forest for the last 20 years. They only purchase wood from independent local collectors that find naturally dead trees that have been sitting on the forest floor for over 4 years.
If you love the scent of palo santo, you have to get this candle!
So many times I enjoy burning sticks or powder, but this candle is a whole new experience! Keeping a continual essence of palo santo in the home, this tin is perfect for keeping a continual aroma going.
I love the tin, it's super easy to travel with, and also such a thoughtful gift, people love receiving this candle too!
Nice candle!
Really love the candle! The massage oil is so good too!