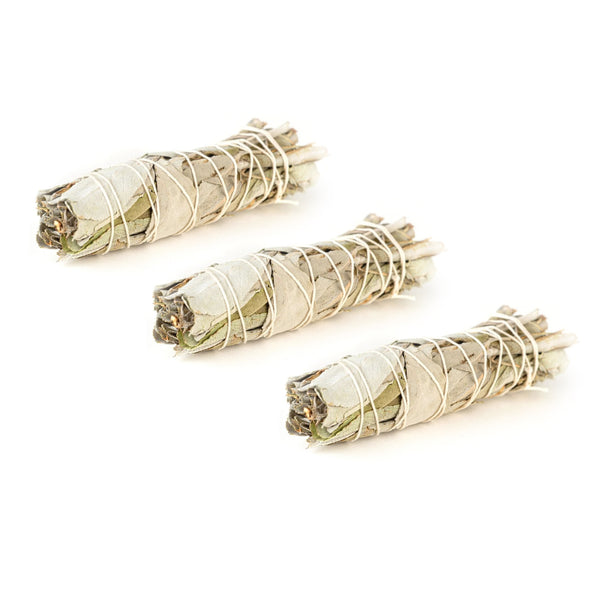 Sage is the North American cousin of Palo Santo and is burned in a similar way to cleanse the air of harmful energies. Bundles come from Southern California and have a sweet refreshing scent.
Great for baths, smudging, and supporting a healthy immune system.
Single Sage Bundle Sold.
How to use
Light at one end with either matches or a lighter. Let the flame burn for 5-10 seconds and then extinguish.  Place in a fireproof holder. Never leave unattended.

Sustainability Practices

This sage is certified organic. All White Sage is prayerfully picked at the monastery and prepared in the most ethical and ecologically sensitive manner to ensure the continual supply of this rare and unique sage. The monasteries' mission is to deliver the finest quality White Sage products direct to you at very accessible prices. No pesticides, petrochemicals, or environmentally damaging agents are ever used in their cultivation, harvesting, processing, and packaging. With Native American brothers and sisters, we believe that White Sage and other potent, beneficial gifts from Mother Earth are sacred, and so they strive every day to infuse their love for this beautiful planet and Mother Earth's children into each item they offer.

Lovely fragrance
Not sure yet how to burn it efficiently. Smoke does not linger burns out quickly
Sage Bundle Review
The quality of this sage burns slowly but so efficiently, while clearing the entire ambience of any unwanted energy. I love it!
Sage Bundle
Great product and package deal
These are awesome
I really liked theses, they were easy to light and not filled with sticks as some other bundles are.
Excellent products
I've ordered from Sacred Wood Essence a bunch of times and have never been disappointed. I usually order smudge wands and sticks of palo santo. The items arrive quickly. Customer service is helpful and efficient. Will continue ordering from Sacred Wood Essence in the future.