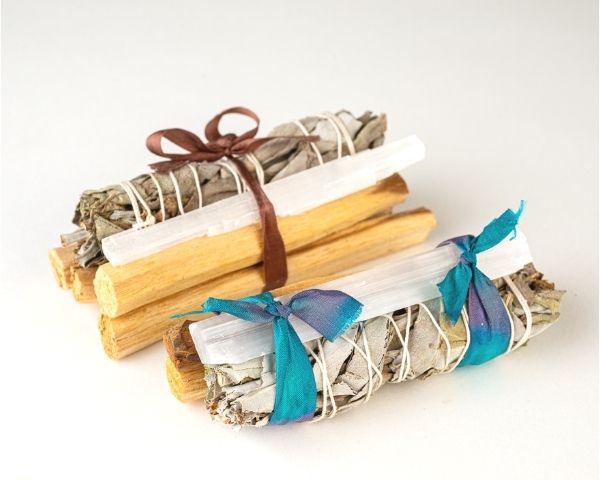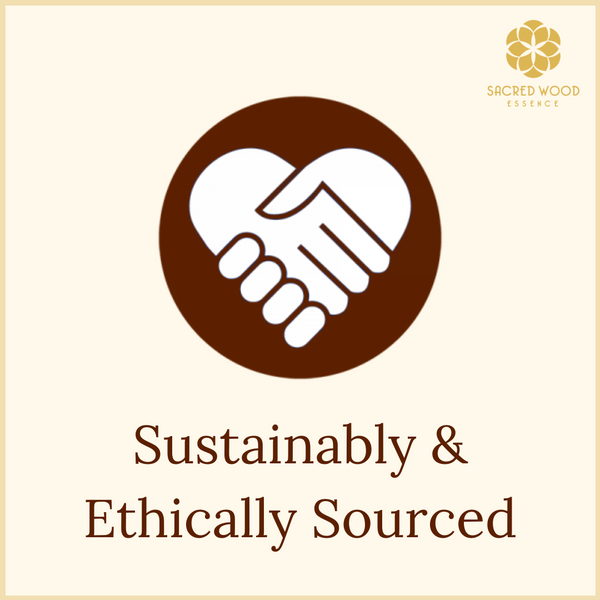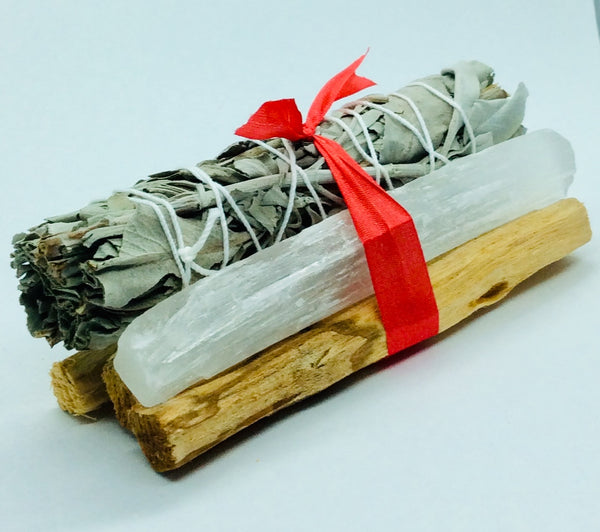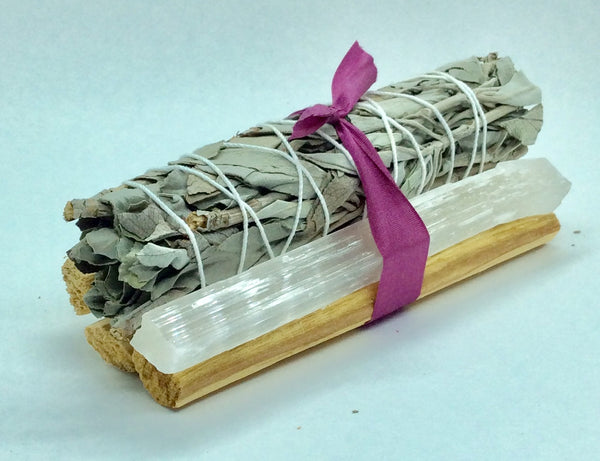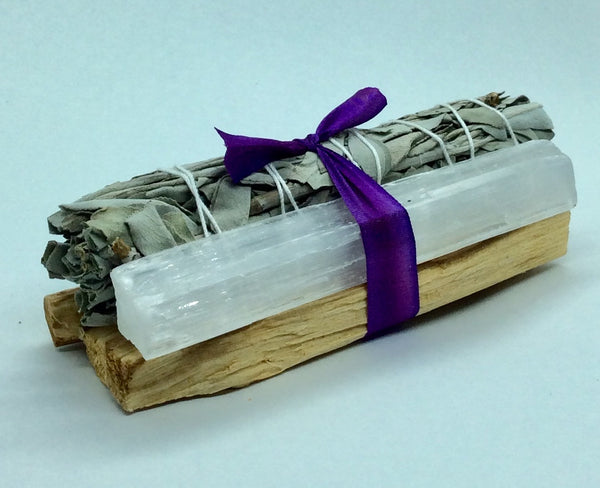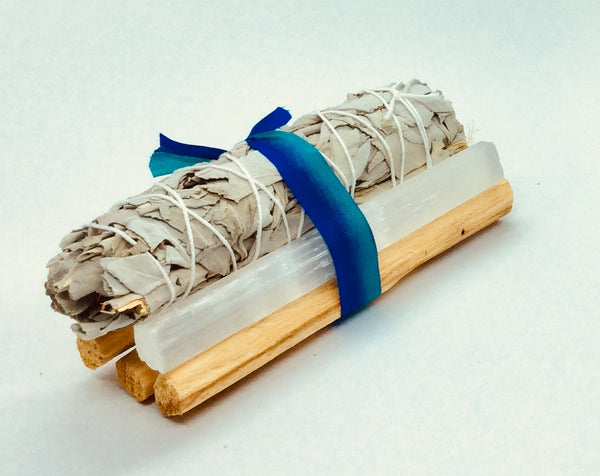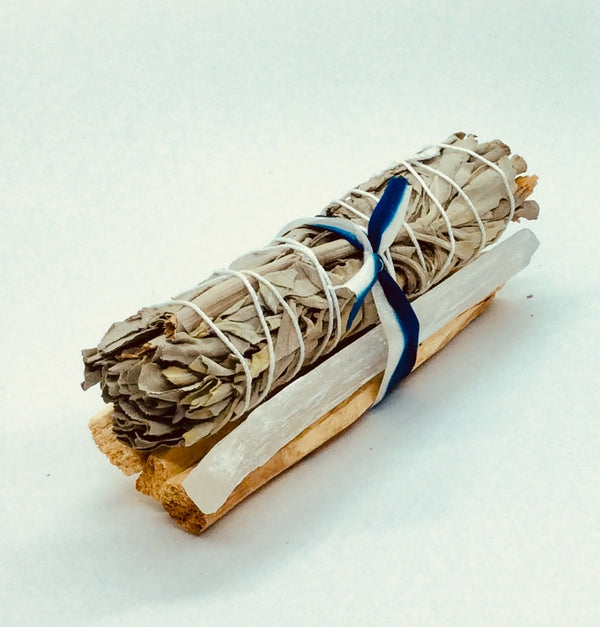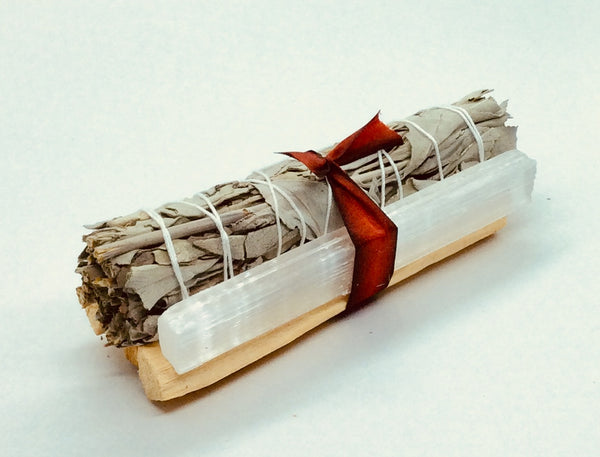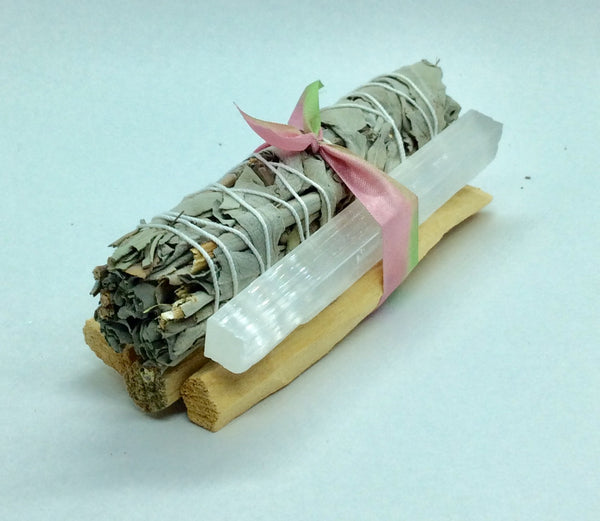 Featuring a Selenite crystal, white sage bundle, and three Palo Santo sticks all tied together with silk ribbons.
This is a beautiful item to gift to friends and family. Choose either a blue or brown silk ribbon. 
NOTE - Do not burn the selenite crystal! Take bundle apart and burn separately. Tip -No need to burn Sage all at once. You can break off little pieces.
How to use
When ready to use the Palo Santo in the sage or bundles, untie ribbons. Hold a flame with a match or a lighter to the end of the sage or Palo Santo for 5- 10 seconds.  Extinguish the flame and place the incense in a fireproof container and enjoy. 

Our Sustainability Practices

This sage in these bundles is certified organic. This white sage is prayerfully picked at the monastery and prepared in the most ethical and ecologically sensitive manner to ensure the continual supply of this rare and unique sage. The monasteries' mission is to deliver the finest quality White Sage products direct to you at very accessible prices. No pesticides, petrochemicals, or environmentally damaging agents are ever used in their cultivation, harvesting, processing, and packaging. With Native American brothers and sisters, we believe that White Sage and other potent, beneficial gifts from Mother Earth are sacred, and so they strive every day to infuse their love for this beautiful planet and Mother Earth's children into each item they offer.
We have been working directly with the same family in Ecuador for over 11 years to obtain our Palo Santo raw materials. They have worked directly with the ministry of forest and government agencies on reforestation projects including putting back over 100,000 trees into the dry tropical forest for the last 20 years. They only purchase wood from independent local collectors that find naturally dead trees that have been sitting on the forest floor for over 4 years.
Sage & Selenite Crystal Bundle
The Sage & Selenite bundle is terrific and was well-packaged. It came right on time, shipped in perfect condition, and all five items (sage, selenite, plus 3 palo santo sticks) are better than advertised. Highly recommend this bundle and store!
Lovely product
Loved the product. Fast delivery. Will order again from this business! :-)
Perfect Bundle
This was exactly what I looking for and I loved smell of the sage of the sage and palo santo. It burned as expected.