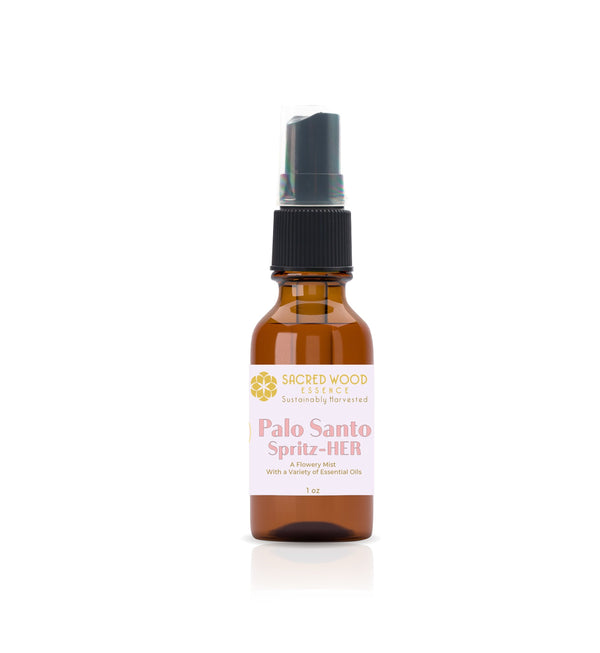 By popular demand, we have developed a new Feminine Essence to complement our Heavenly Spritzer. Spritz-Her!
Ingredients: A combination of Love, Mt. Shasta Water, Palo Santo, Rose Geranium, Lavender, Ylang Ylang, Juniper Berry, Clary Sage, and Jasmine.
How to use
Gently mist face, body, and room to refresh and uplift.

Our Sustainability Practices

We have been working directly with the same family in Ecuador for over 11 years to obtain our Palo Santo raw materials. They have worked directly with the ministry of forest and government agencies on reforestation projects including putting back over 100,000 trees into the dry tropical forest for the last 20 years. They only purchase wood from independent local collectors that find naturally dead trees that have been sitting on the forest floor for over 4 years.
Excellant product
I love this scent. I pair it with the sage spray sometimes also with the hydrosol. I love, love these products!!
Smells lovely
This spritz smells very good and is so calming. I spray it when I need a pick me up or my daughter is being a lil fussy. Nice feminine scent.. I wish it was bigger. A favorite for sure and I will order again.
Pall Santo Spritz Her
I order the his and hers for the first time. Both are nice but I like the His one a bit better. The sprayer isn't working on it as well.