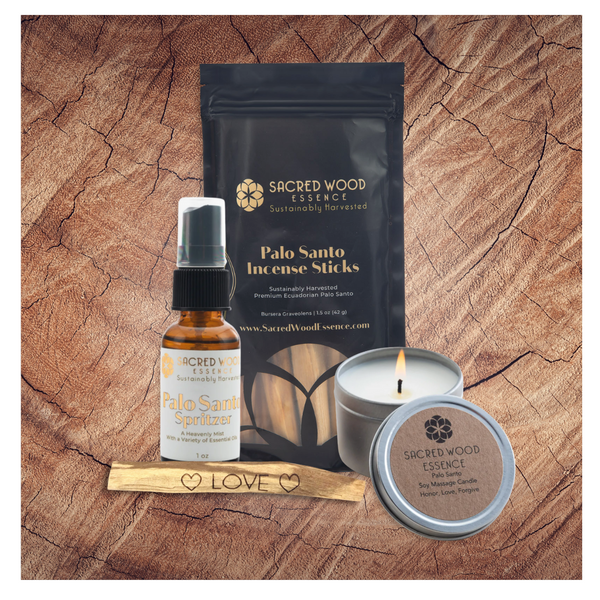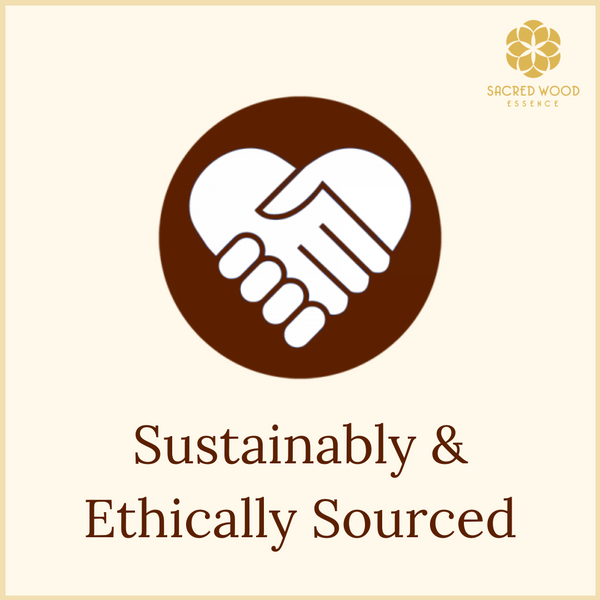 Share Palo-Santo with the Sacred Love Bundle #1. Treat yourself or someone you love. Retail Value = $60 - Save 15%
This suite of products includes:
Palo Santo Incense Stick pack
Palo Santo Love Etched Stick
Palo Santo Heavenly Spritzer
Palo Santo Candle 
How To Use
Palo Santo Incense sticks: Use a candle, match or lighter to ignite your stick of Palo Santo.  Hold at about a 45-degree angle pointing the tip down toward the flame.  Allow it to burn for about 5-10 secs and then blow out.  Move about your workspace, home, car, bathroom or anywhere you would like to clear the energy.  The rich smell will also bring peace and clarity to the moment along with good feelings.  When finished, place the stick in a fireproof bowl of metal, glass, or clay.  The glow will end on its own unless you blow on the ember which will keep the smoke going.  Always use caution and respect when working with fire.

Palo Santo Powder: Burns on its own, no coal necessary. Great for Tea, Healing Sessions, baths, Sweat Lodges, pouring on wood-burning stoves, and excellent for keeping away Mosquitos!

Palo Santo Anointing Oil: Add a drop of pure Palo Santo oil to your palms and inhale to clear the respiratory system.
Massage the oil into the skin with a carrier oil to ease joint pain and inflammation of muscles.
Put a few drops in a diffuser to clear the air of unpleasant smells and enjoy a fresh environment.
Put some drops in a bath to release the stress of the day.
Add to a spray bottle with water to use as an air freshener.

Palo Santo Spritzer: Great as an air freshener, deodorant, yoga mat sanitizer and body fragrance.
Our Sustainability Practices
We have been working directly with the same family in Ecuador for over 11 years to obtain our Palo Santo raw materials. They have worked directly with the ministry of forest and government agencies on reforestation projects including putting back over 100,000 trees into the dry tropical forest for the last 20 years. They only purchase wood from independent local collectors that find naturally dead trees that have been sitting on the forest floor for over 4 years