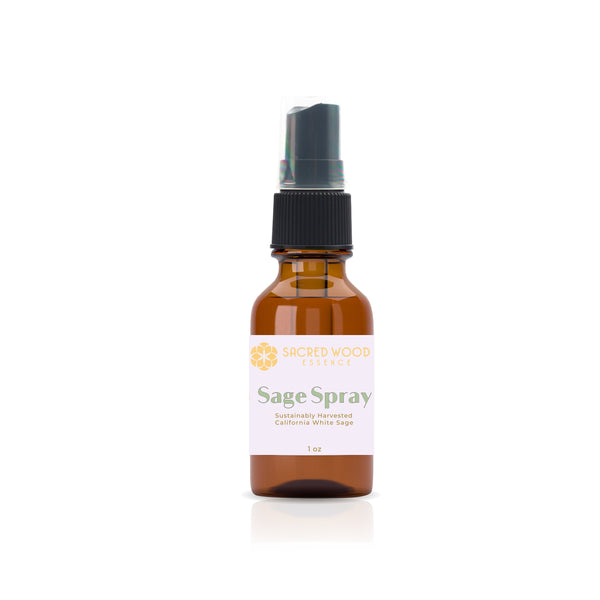 We are really excited to share this new product with you. A Sage Spray in a base of Palo Santo holy hydrosol made with some amazing, high-quality Sage essential oil from Southern California. Comes from a 300-acre private piece of land where the Sage is ethically wild-harvested and farmed. We add a touch of Colloidal Silver for preserving and disinfecting.
This spray is refreshing, cleansing, rejuvenating, and smells great. Excellent for quick energy clearing or air freshening. Feels incredible on your face and skin.
Ingredients: A combination of Love, white sage oil, palo santo hydrosol, and colloidal silver.
How to use
Gently mist face, body, and room to refresh and uplift.

Our Sustainability Practices

This sage is certified organic. All White Sage is prayerfully picked at the monastery and prepared in the most ethical and ecologically sensitive manner to ensure the continual supply of this rare and unique sage. The monasteries' mission is to deliver the finest quality White Sage products direct to you at very accessible prices.

No pesticides, petrochemicals, or environmentally damaging agents are ever used in their cultivation, harvesting, processing, and packaging. With Native American brothers and sisters, we believe that White Sage and other potent, beneficial gifts from Mother Earth are sacred, and so they strive every day to infuse their love for this beautiful planet and Mother Earth's children into each item they offer.

Sage Spray is great!
A fast protection when lighting a smudge bundle isn't possible. Wish it had just a little stronger sage scent.
Excellent
I am a long time customer and it all started with the spritzer. I tried the sage spray when it first debuted and I absolutely love it.