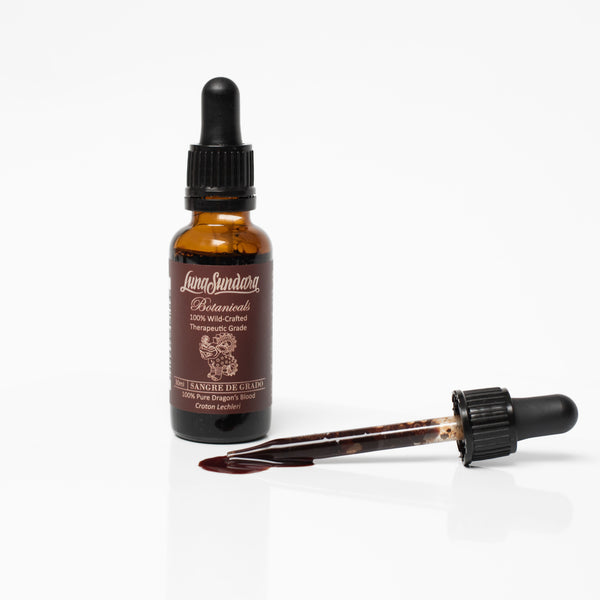 Dragon's Blood 100% Pure Sangre de Grado (Croton Lechleri)
Dragon's blood, or "sangre de grado", is named for its bright red sap. Native to the Amazon region of South America, this tree is thought to possess some healing properties. Both the tree's bark and resin boast a long history of usage in traditional medicine - in fact, indigenous tribes throughout Peru and Ecuador have used its sap for centuries.
Common Uses:
Sangre de grado possesses a high concentration of Taspine - an alkaloid with anti-inflammatory properties - which may help to accelerate the healing process of some external wounds.

In ancient times, sangre de grado was commonly used to aid in digestive health, with its plant resin especially used for treatment of diarrhea or dysentery.

As a natural astringent, the bark of the sangre de grado tree may be applied directly to the skin to potentially help stem blood flow.
Recommended Doses:
Internal:

 

To use, simply add 3 drops to 2 oz. of water or juice up to 2 or 3 times a day (between meals). Remember to shake well before using!

External:

 

Apply topically by hand or cotton ball. Reapply as needed. If desired, rub directly onto the skin to form a protective coating. Remember to shake well before using!
CAUTION: Seek expert medical advice before taking during pregnancy or nursing. Keep out of reach of children. Do not ingest directly. Avoid direct contact with eyes and mouth. Store away from heat and light.
Chemical Composition:
Proanthocyanidins
3'- 4-O- dimethylcedrusine (Lignan): secondary metabolite

3 -O - methylcedrusine (Neolignan)

Procyanidin B-1

Procyanidin B-4

Catechin

Epicatechin

Galocatechin
Taspine (alkaloid)
Sitosterol
Sitosterol glucopyranoside
Crolequinol (Triterpenoid)
Crolequinic acid (Triterpenoid)
Polyphenols (simple phenols)
Sustainably harvested in Peru. Luna Sundara only works with suppliers who utilize ethical, fair trade and sustainable practices.
The above information is for informational purposes only, and cannot be considered as expert medical opinion or advice, nor does it compromise our legal responsibility.
Excellant product
love Dragon's blood, I use it for many things. This is the best I have found.
For woonds
It makes a really good coating on my woonds, I hope it helps curing also
Asthma healing
Asthma triggers typically put me out for 5-10 days depending on the exposure amount but 2x a day Dragon's Blood dosing has seemed to speed up that process and I hope to continue seeing improvements