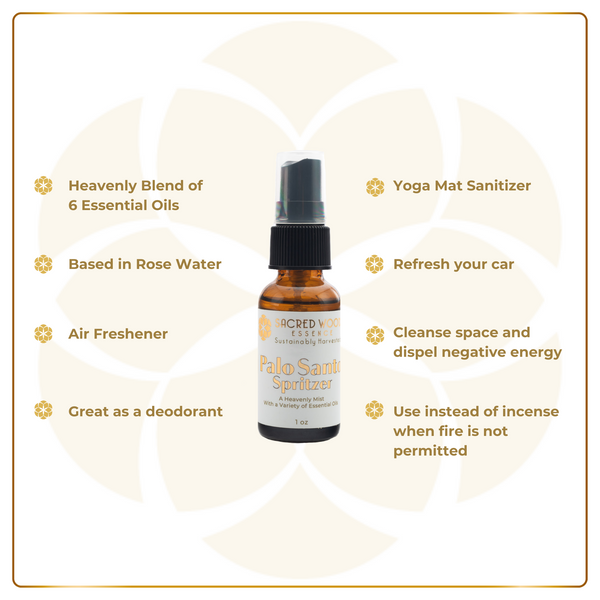 Great as an air freshener, deodorant, yoga mat sanitizer and body fragrance. This heavenly combination of essential oils will uplift, inspire and revitalize!

A combination of Love, Rose Water, Palo Santo, Lavender, Sage, Peppermint, Oud, Frankincense, Myrrh, Colloidal Silver/Gold in a 1 oz bottle.
How to use
Spritz in the room, on your body, car, yoga mat or anywhere you want to uplift and cleanse. Avoid spraying in the eyes or mouth.
Our Sustainability Practices

We have been working directly with the same family in Ecuador for over 11 years to obtain our Palo Santo raw materials. They have worked directly with the ministry of forest and government agencies on reforestation projects including putting back over 100,000 trees into the dry tropical forest for the last 20 years. They only purchase wood from independent local collectors that find naturally dead trees that have been sitting on the forest floor for over 4 years.
Palo Santo Heavenly Spritzer
Palo Santo Heavenly Spritzer
Obsessed with this
I've tried a lot of different Palo Santo sprays before and this is my favorite by FAR! It smells sooooo good and is such a nice spritz. I use it for cleansing energy and just a perfume :)
Love
This spritzer is truly heavenly. I use it everywhere in my home. Especially like it on bed pillows and sheets.
Enlightening Scent
This scent clears my mind and enlightens my thoughts.