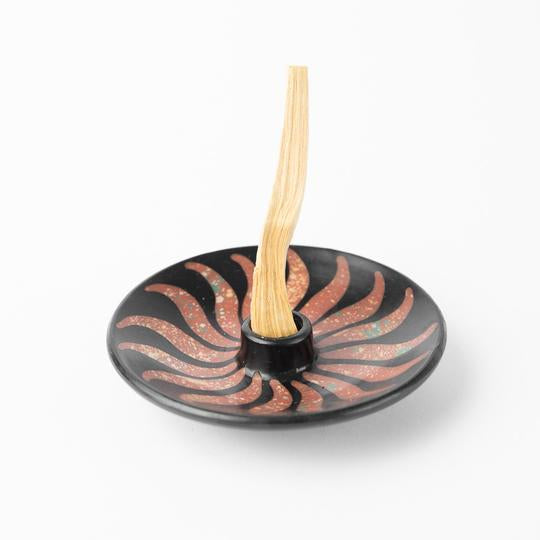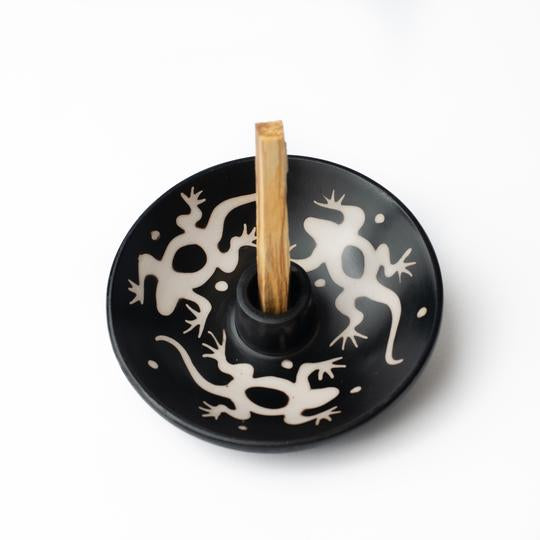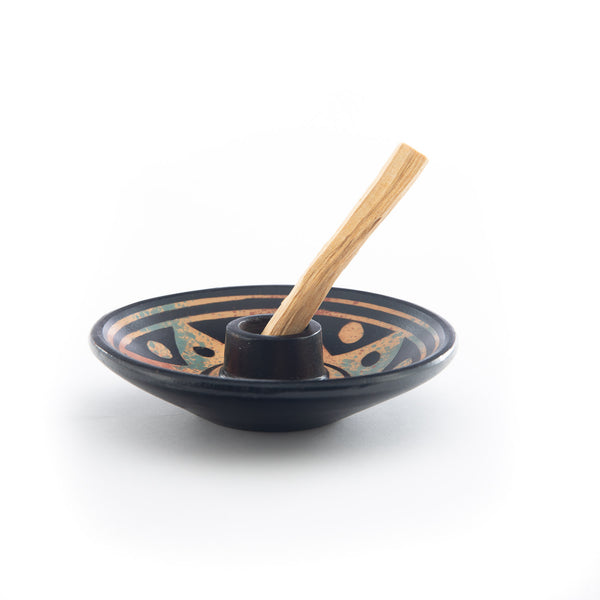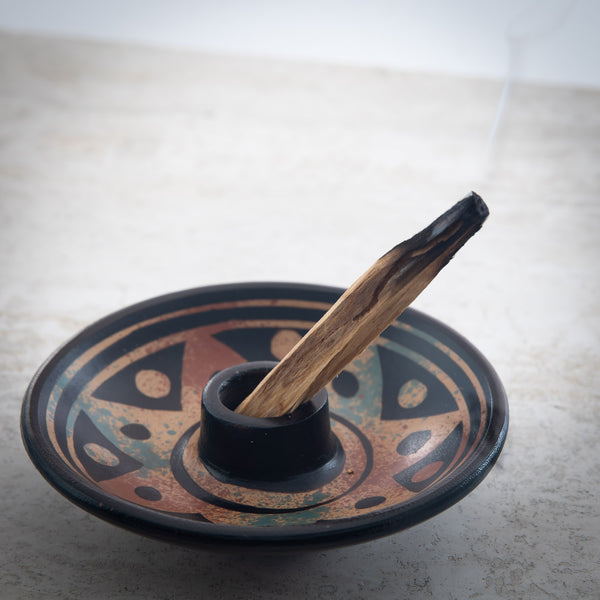 A beautiful Palo Santo holder/burner made in Peru by the people of Chulucanas. Chulucanan pottery is widely considered to be the finest in Peru and this method has been used for many generations. We are able to acquire these from a friend in the Palo Santo business and we are happy to help out more artisans from South America while extending our reach outside of Ecuador.
These burners provide an easy and great way to hold up your Palo Santo stick and catch any ashes. The designs and artwork are incredibly beautiful and stimulating. These plates come with 3 sticks to burn
How to use
Light Palo Santo with a match or lighter by holding the incense stick down at a 45-degree angle. Hold the flame to the incense stick for 5-10 seconds.  Blow out and place the unlit end in the holder. Never leave unattended. 

Our Sustainability Practices

We have been working directly with the same family in Ecuador for over 11 years to obtain our Palo Santo raw materials. They have worked directly with the ministry of forest and government agencies on reforestation projects including putting back over 100,000 trees into the dry tropical forest for the last 20 years. They only purchase wood from independent local collectors that find naturally dead trees that have been sitting on the forest floor for over 4 years.
Beautiful gift
I received the holder extremely fast. I think in 2 days but I didn't pay for expedited shipping. It was very securely packaged, lots of cushion. It was a gift and the recipient loved it. A beautiful holder and 3 palo santo sticks. I will definitely purchase again and highly recommend.
Palo Santo stick holder
I absolutely love it! Actually the first one that arrived was broke in half. I sent an email and a picture of the broken item and I was told another one would be sent. I received that one today! I have made a couple purchases from here and loved them all. Superb customer service as well! Blessings
Beautiful and well made!
Good purchase and a perfect stick holder.
Beautiful
It's exactly what I wanted and so beautifully made. I love it!! I may get another for my living room and maybe one for the basement.