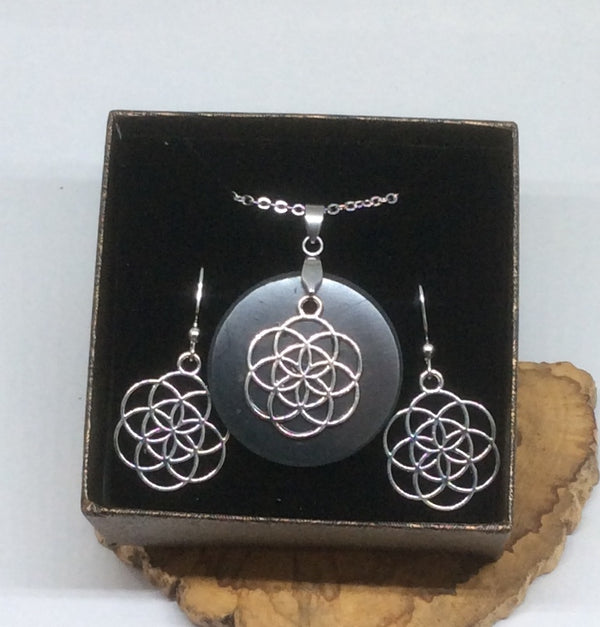 Shungite is a powerful grounding stone which raises the frequency at which one operates. It is also protective, warding off environmental stress and negative energy fields. It purifies the aura and protects against electromagnetic fields that emanate from televisions, computer monitors, microwaves, telephones and other wireless devices.
 
Shungite is a powerful purification stone.  Physically, it removes toxins from the body and supports the immune and lymphatic systems, but it also clears and reinvigorates each chakra, extending through the energy body, from the Root Chakra upwards.

The energetic vibration that constitutes the fundamental essence of creation is difficult for the human mind to comprehend. Therefore, the Seed of Life symbol serves as a concrete representation of the energy and blueprint that underlies the creation of the material universe.
 
The Seed of Life is believed to emit powerful vibrations that can generate positive changes in your life.  It is thought to be a powerful symbol for creating new ideas and opening new pathways in life.
 
By meditating on the Seed of Life, you can tap into the energy and creative potential of the universe. This symbol is especially useful for bring in peace and harmony into your life, for self-discovery, and for accessing deeper levels of consciousness.

One of the most important concepts associated with the Seed of Life is that of interconnectedness. It represents the idea that everything in the universe is connected and that we are all part of a larger, interconnected whole or oneness.
 
Lovely Pendant and Earrings
A beautiful pendant on a chain — I love how the stone warms up when I wear it! The earrings are quite pretty and lightweight.
Lovely set
Love this set of necklace and earrings